Cold Applied Plastic
Hard Wearing Long Life Line Marking Technology
WHAT ARE COLD APPLIED PLASTICS?
As A guy with nearly 3 decades of experience in the Line Marking industry, I am excited to share these latest technologies Cold Applied Plastic (CAP), long life Line Marking systems with our clients. In A nutshell, CAP offers a greatly enhanced service life because it provides a hard-wearing, raised non-slip 3mm plastic film, rather than the very thin 300-micron film limitation of conventional Line Marking Paint.
The end result, is we are now able to provide marking systems with an expected 5-10 year optimum service life, rather than the 6 month – 2 year service life of paints. With CAP costing roughly 3 times the installation cost of standard road marking paints, the 10 times longer service life makes it a no brainer investment over the long term. Combined with exceptional non-slip qualities (you really cannot slip on this stuff), you can see why I am excited and amazed by these new products.
Past Projects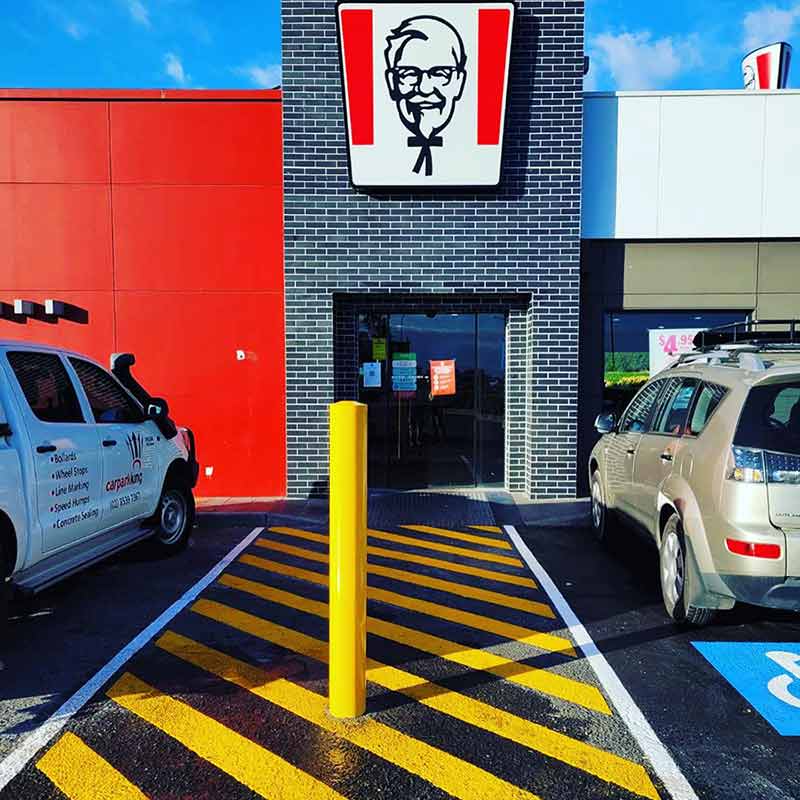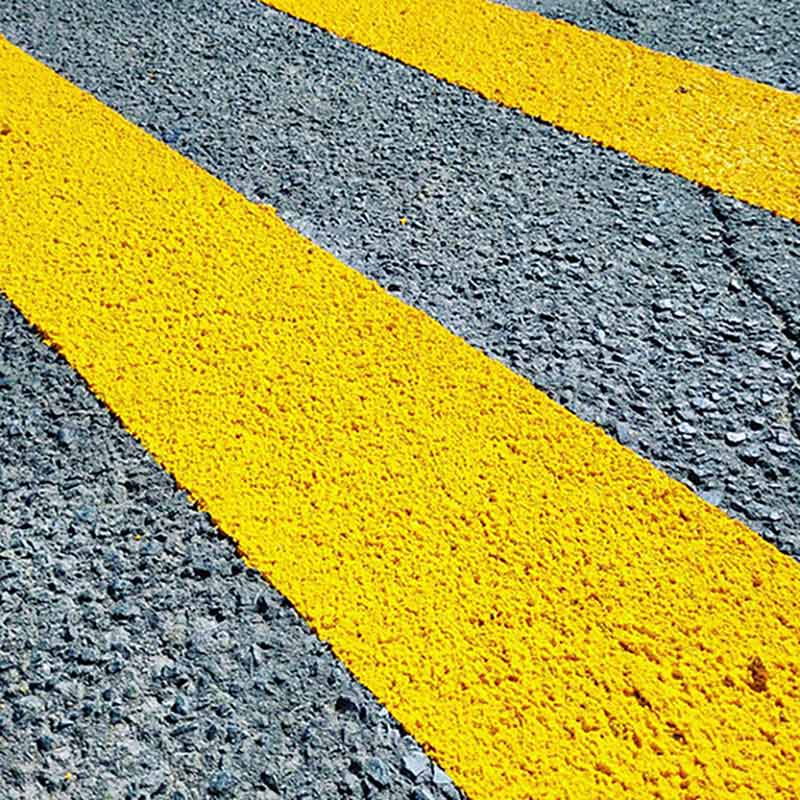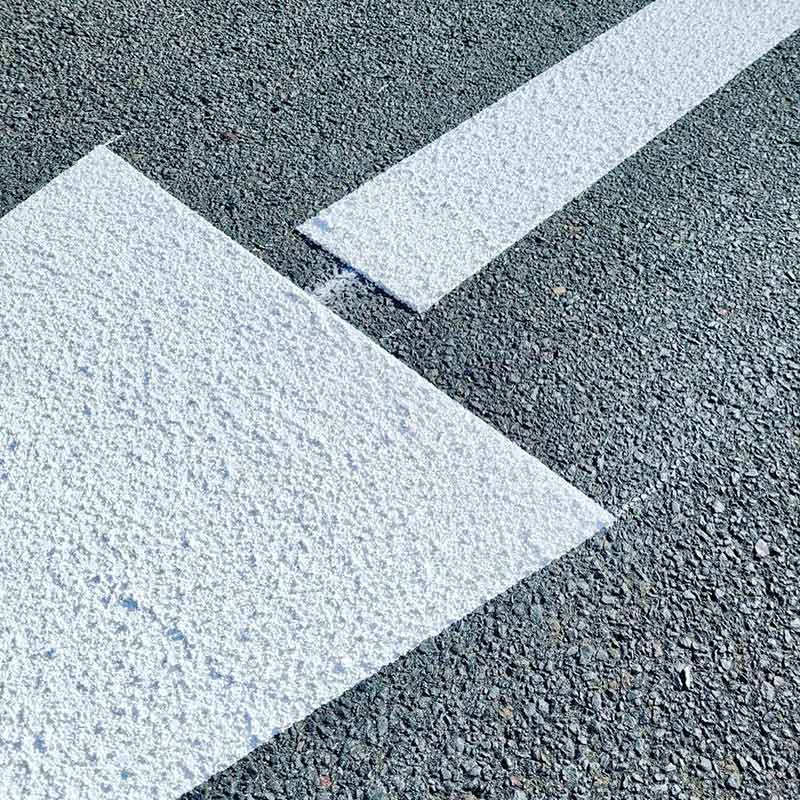 Ennis Cold Applied Plastic Products
We always ensure we are using the absolute best quality products available in all our projects. In line with this, Carpark King supply and install the tested and proven Ennis EF GripMMAX™ cold applied plastic products. Using state of the art Methyl Methacrylate (MMA) resins, hardwearing aggregates, premium pigments that deliver highly visible, extremely durable colour stability, while meeting all the non-slip AU standards for cyclists, Ennis Flint really are at the top of their game when it comes to Australian manufactured CAP products.
EF GripMMAX™ is a fantastic long-life product perfect for promoting a clear understanding of delineated lanes, bus lanes, corridor treatments, coloured area markings, cycleways, car parks, warehouse markings and more. The long-life nature of this product makes it perfect for the highest volume traffic areas as well.
How Is Cold Applied Plastic Applied?
Depending on the job type, Cold applied plastics can be applied by roll, spray or screed. Oftentimes, the process includes applying tape to mark the dimensions of the area to be treated or the design, then the tape will be pulled while the applied product is still wet, creating a perfectly formed outline.
Surface preparation is very important of course as with all line marking materials, it is important that all surfaces are clean of moisture and water, dust, loose debris and any existing curing compounds. It may also be necessary to use a degreaser for the removal of vehicle fluids if present. Required Equipment may include a wire brush, shot blaster, grinder, moisture tester, high-pressure water blaster, or compressed air.
Clean up of tooling should be done with solvent such as acetone before the material has cured.
What is The Difference Between Thermoplastic and Cold Applied Plastic
The difference is thermoplastic material is pre-heated, applied hot and cures on laying. Cold Plastic has a base pigmented resin mixed with a catalyst before laying and cure due to chemical reaction.
CAP is a very long life, hard wearing product that exhibits low-dirt pickup characteristics making it look cleaner for longer. Thermoplastic materials are also very hardwearing though not quite as long-lasting as CAP. Preformed Thermoplastics (PTP) are very useful and the 2 products work very well together. An example of this could be using the CAP to make a coloured background and using PTP to add custom logos or signage over the top.
Cold Applied Plastic Supply & Installation Across NSW and the ACT
Based in Sutherland Shire of southern Sydney, Carpark King are one of the major suppliers and service providers for Cold Applied Plastics and all types of line marking operations across NSW and the ACT wide, including some areas of southern QLD and northern VIC. As one of the longest-serving line marking businesses in Australia, our team has a combined technical experience of over 70 years, meaning the quality and scope of our services is absolutely second to none.
Our clients range everywhere from the most major scale projects such as airports, apartment blocks, commercial shopping centres, builders and local governments right thru to small scale domestic and strata based projects. We value all our clients at all levels and have a name for providing some of the most skilled workers and the best value for money solutions in the industry.
Some Testimonials From Our Happy Customers..
I would like to thank you for the great job you did in assisting Reed in opening the Chatswood Chase car park on time. Your efforts and that of your team were a key factor in the successful handover of the area to our client, Colonial First State. Once again, thank you."
Jim Mitchell –  Reed Constructions
"Carpark king were so fast to return a quote, excellent service. They turned our old sorry carpark into a brand new facility. The employees took so much pride in their work and were an absolute pleasure to deal with. 100% satisfied with the overall experience. Will definitely use again should we need future works."
Scarlett Jones –  Customer
"Luke and his team at Carpark king were amazing. Lots of knowledge in assisting us to understand our requirements and such a high quality of workmanship. Highly recommended!!!"
Hannah Cullen – Customer