Carpark Fixtures
Carpark-King sell, supply and install high-quality industry leading fixtures to suit any modern car park installation.
Carpark-King can supply & install wheel-stops, bollards, speed humps, height clearance bars, corner guards, convex mirrors, pipe protectors, expansion joint covers, bike racks and many other car park fixtures. If you cannot find what you require below, please do not hesitate to contact us, we may be able to source exactly what you are looking for!
Carpark-King can supply and install all:
Wheel stops
Bollards – All sizes, powder-coated yellow
Speed humps – All sizes, normal and aggressive
Height clearance bars – All sizes
Corner guards
Convex mirrors – All sizes, interior and exterior
Pipe protectors – Made to measure
Expansion joint covers
And many other car park fixtures.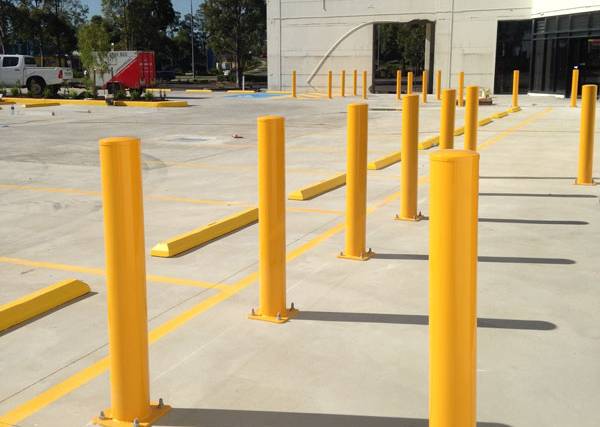 Wheel Stops
Wheel Stops are ideal for effective delineation of parking and for use in the protection of walls, vehicles & other valuables in all garages and surfaces parking applications.
We offer different types of wheel-stops depending on your company needs:
Rubber wheelstops – Heavy duty. Size 1650mm
– Manufactured from 100% recycled tyres
– Superior construction & durability means these wheel stops won't warp, crack or rot
– Yellow reflectors for increased visibility
– Resistant to UV, moisture, oil and extreme temperature variations
– Flexible, allowing for conformity to contour on virtually any road surface.
Lightweight Grey or Yellow PVC wheel stops – Size 1650mm. Made from recycled plastic, no reflectors
Heavy duty pre-cast concrete wheel-stops – Size 1650mm and 2000mm. Made from steel-reinforced concrete.
All our car park fixtures comply with the current Australian/NZ standards.
Speed Humps
Speed Humps are suitable for use in confined areas of covered and multi-level car parks, commercial premises, petrol stations etc., anywhere that you wish to further slow the speed of vehicles travelling at 30km/h or less.
Our premium rubber speed hump with a ribbed surface to prevent slipping is manufactured from 50% natural rubber and 20% recycled rubber with other additives for durability. The black and yellow sections allow the product to be abutted together to make alternative striped patterns. These can then be made up to your required length by adding End Caps.
We supply both normal and aggressive speed humps. We can also supply and install rubber bunding for carwash bays.
Bollards
Bollards can be used in any area to separate vehicles and pedestrians, protect structures or inhibit vehicles from entering particular areas.
Bollards come in many different forms. Please contact us today with your specifications!
Some of the most popular bollards we install are:
Powder Coated or Stainless Steel Surface Mounted Bollards
Powder Coated or Stainless Steel Core Drilled Bollards
Removable Bollards
Foldable Bollards
Flexible Rubber Bollards
We can also have keylink eyeholes added to powder coated bollards to give you the option of having chain running between bollards for further protection of pedestrians, structures or objects.
Height Clearance Bars
Height clearance bars are used as early warning signs as vehicles are entering undercover areas or will encounter an overhead obstruction. They will eliminate costly damage to vehicles and property.
Our height clearance bars are customisable 2m lengths, up to 6m lengths.
Constructed from heavy duty metal and powder coated yellow, they are heavy enough to endure windy areas.
Installed with galvanised chain.
Bike Racks
We can supply and install a range of multi bike rack parking to suit your needs.
Our most popular model is the hooped design bike rack which comes in raw galvanised or stainless steel and is either surface mounted or inground installation.
This bike rack can hold up to 2 bikes and is slim in design, great for compact spaces.
Corner Guards
Corner guards are installed to protect exposed corners from vehicle traffic.
Our corner guards are constructed from black rubber with yellow reflector stripes which offer great high visibility. The flexible rubber will absorb most of the initial impact of a vehicle.
We also offer black rubber and yellow dock bumpers which are ideal for use in loading docks to protect walls from reversing trucks or mobile machinery.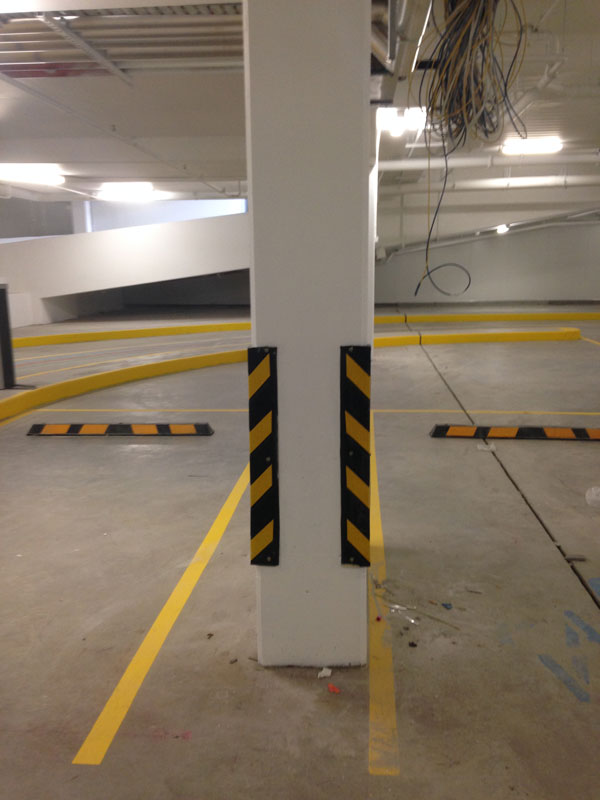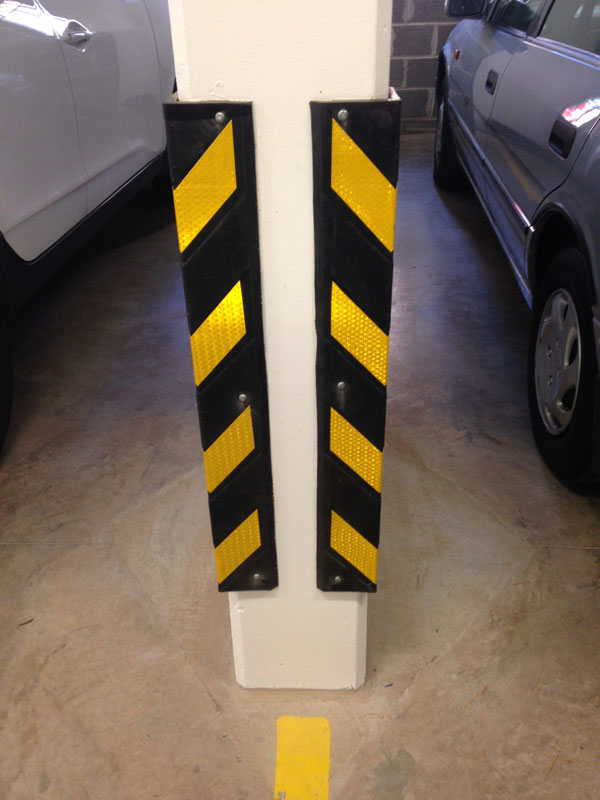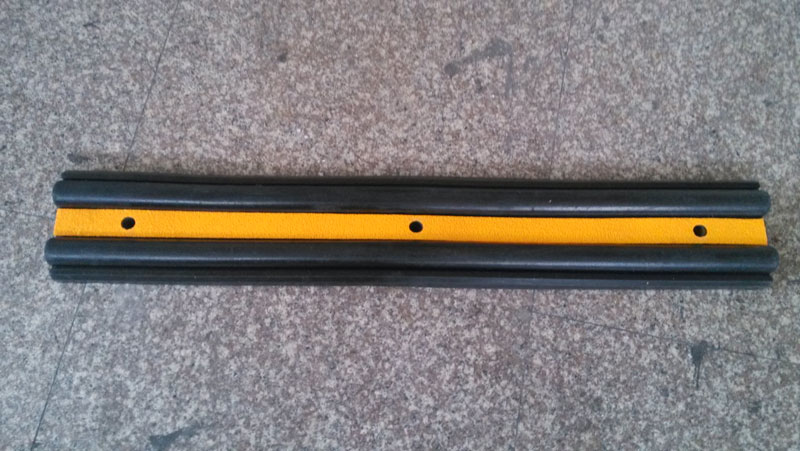 Convex Mirrors
Convex mirrors are installed in areas that have blind corners or obscured views in vehicle traffic corridors.
Strategically placed they help minimise collisions and assist pedestrians with an additional viewpoint when crossing through the area.
We have indoor or outdoor convex mirrors available, both in high visibility orange.
Outdoor convex mirrors have an additional hood minimising sun reflection.
All our convex mirrors are shatterproof and are of lightweight construction.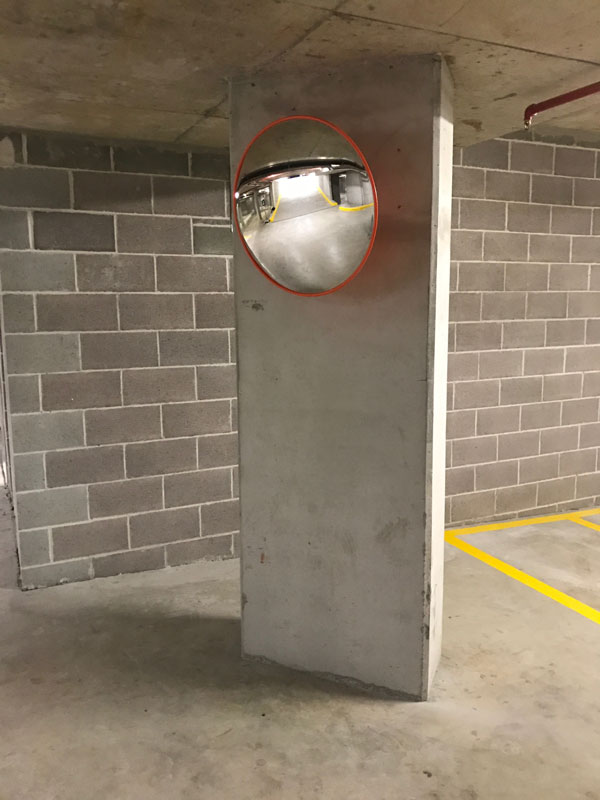 Pipe Protectors
Pipe protectors are used for preventing damage to exposed pipes from moving vehicles or mobile machinery.
Our pipe protectors are completely custom size and are measured on-site before manufacture.
They are constructed of 3mm folded galvanised sheet metal available powder coated or left raw galvanised.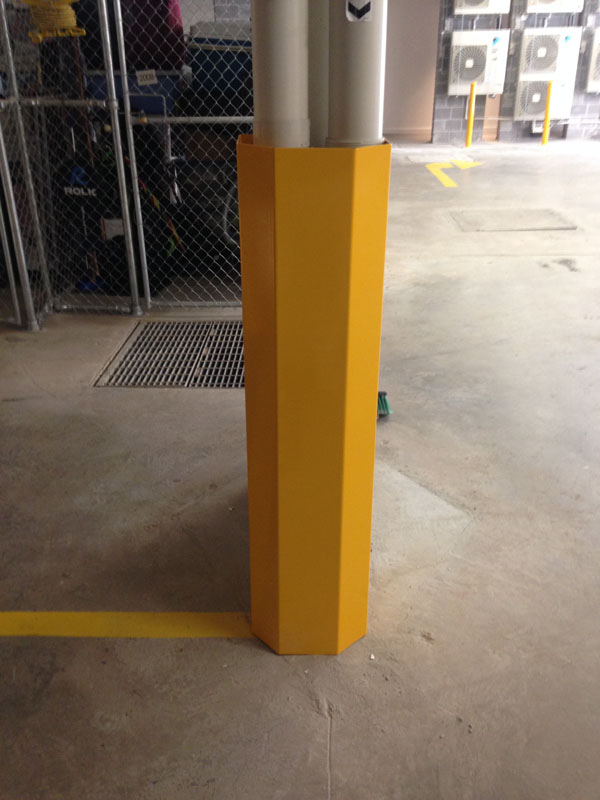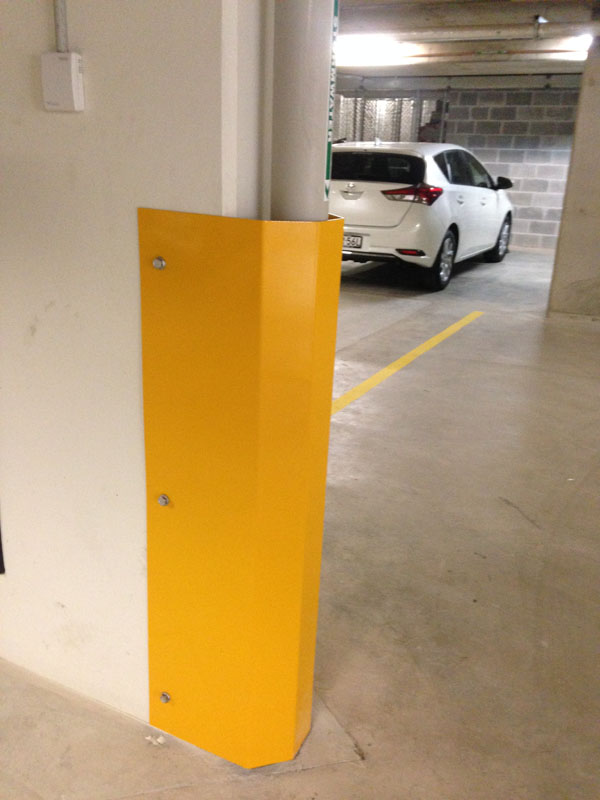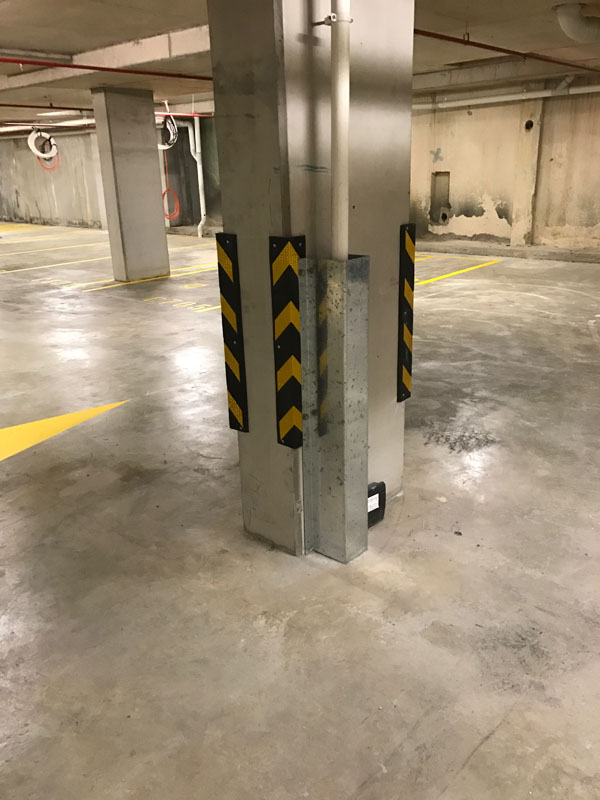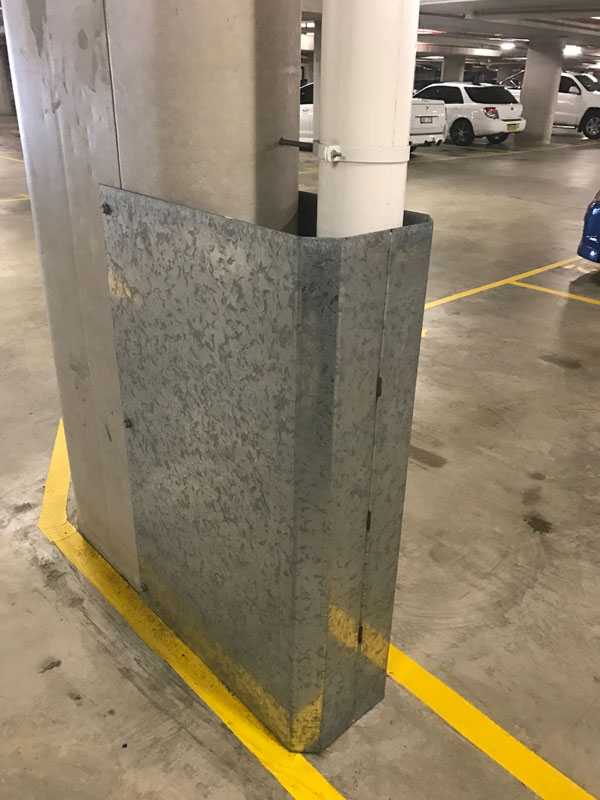 Tactile / Stair Nosing
Stair Nosing
Stair nosing not only protects the stair edge from damage from high traffic they also offer hi-visibility and slip resistance for pedestrian safety.
We offer installation of aluminium stair nosing with a non-slip insert in either yellow or black. This method is long lasting and easy to repair in the future if required.
A cheaper alternative is to paint concrete stair edges with our heavy-duty high visibility yellow line marking paint with glass beads / or alumina powder distributed through to increase slip resistance. This method is not as long lasting as the paint will wear away in high volume areas and is recommended to be re-painted as required.
Tactile
Tactile ground surface indicators are installed to assist pedestrians who are visually impaired.
We can install hi-visibility tactile mats or individual tactile indicators in a range of different materials and colours.
Please contact us with your specifications today!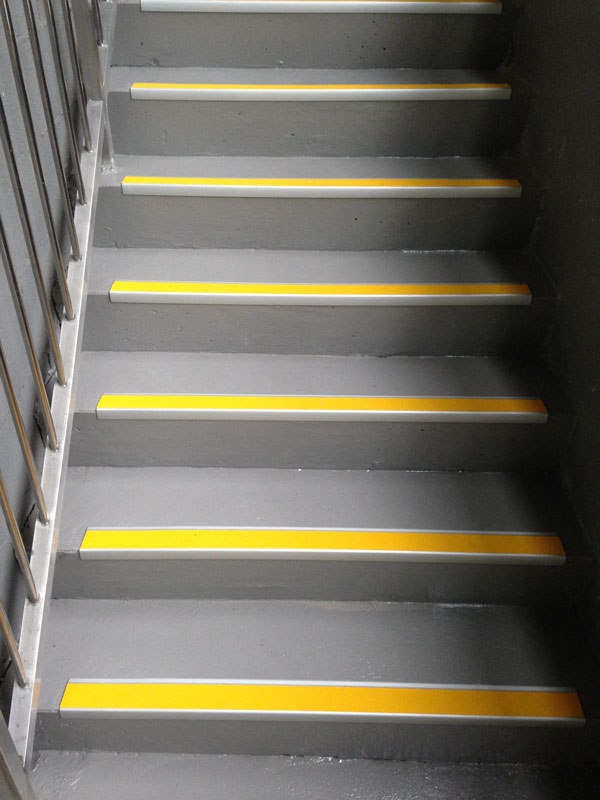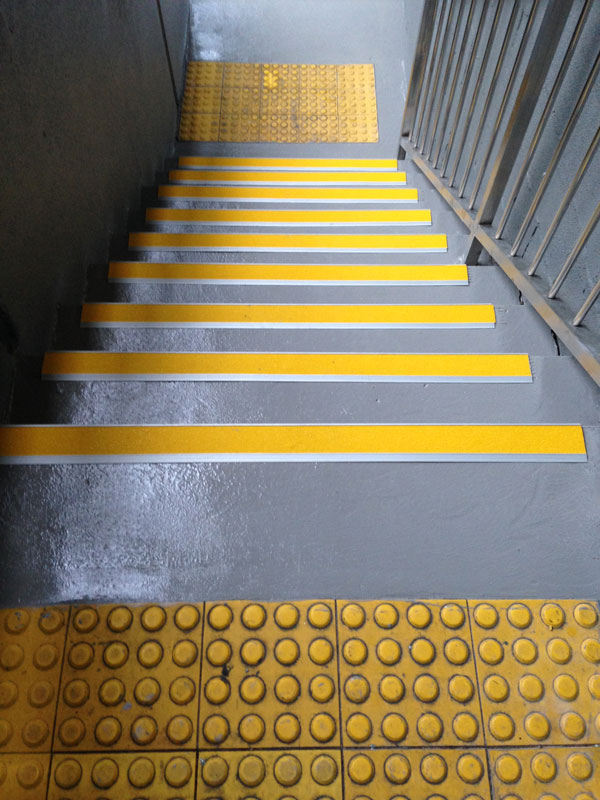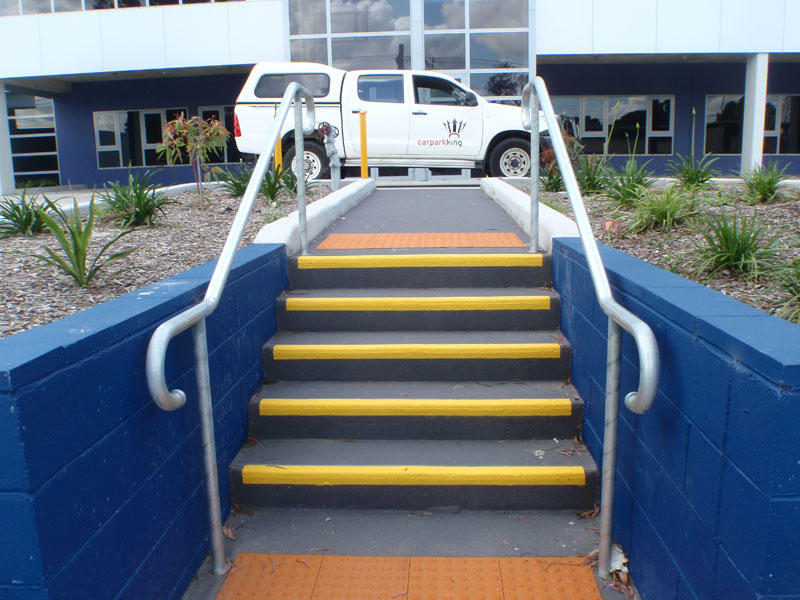 Expansion Joint Covers
Expansion joints causing water to leak from one level of your car park to the next? Our standard galvanised metal cover plates cover most applications.
Available as a 4mm flat plate or with a 30mm raised section to provide a speed hump slowing effect
Can be used for retrofit and surface mount installations
Offering chequered plate surface for added reduced slip surface
Comes in 2.40m lengths x 300mm or 400mm wide and can be cut to custom fit whatever lengths you require
Rubber underlay used to eradicate those terrible clanging sounds that echo through your car park with other expansion joint methods
Used in conjunction with approved joint sealant and backing rod this product can solve your water leak issues
4 x 14mm round holes per length on one side for fixing
4 x 14mm slotted holes per length on one side allowing for concrete movement
Sealant is used on both sides of cover plates to further reduce water seepage to expansion joint