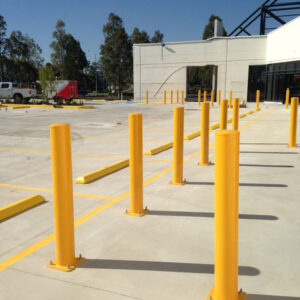 Carpark Fixtures
Carpark-King can supply & install wheel-stops, bollards, speed humps, height clearance bars, corner guards, convex mirrors, pipe protectors, expansion joint covers, bike racks and many other car park fixtures. If you cannot find what you require below, please do not hesitate to contact us, we may be able to source exactly what you are looking for!
Carpark-King can supply and install all:
Wheel stops
Bollards – All sizes, powder-coated yellow
Speed humps – All sizes, normal and aggressive
Height clearance bars – All sizes
Corner guards
Convex mirrors – All sizes, interior and exterior
Pipe protectors – Made to measure
Expansion joint covers
And many other car park fixtures.
Get a free quote
MORE THAN JUST A CARPARK: The gateway to your kingdom!