Need A Great Value Warehouse Line Marking Service in Sydney & NSW
You are in the right place, Carpark King are the specialists in warehouse safety line marking! From safety mitigation systems and signage, designated safe walkways, machine safe areas, vehicle direction, loading bays, fork-lift in use, these are just a few that come mind, but we can help get your workplace compliant with any markings and signage you require.
Being one of the longest serving companies with over 60+ years experience on our team, Carpark King are uniquely positioned to offer a level of service, quality and value that many of our competitors are simply not able to offer. In fact, we've been around for long enough that many of our competitors were actually trained by us.
And if all that is not enough to get you interested, we will also beat any genuine written quote on all the services we provide. Carpark-King really have got you covered every step of the way.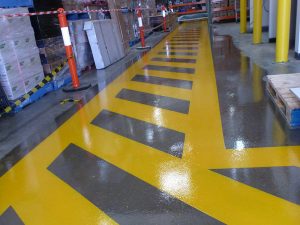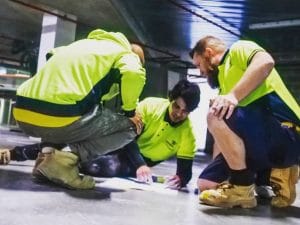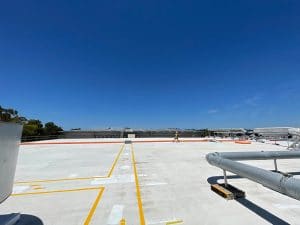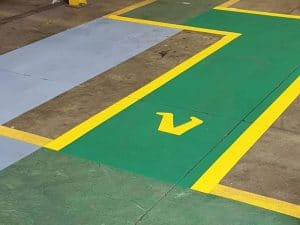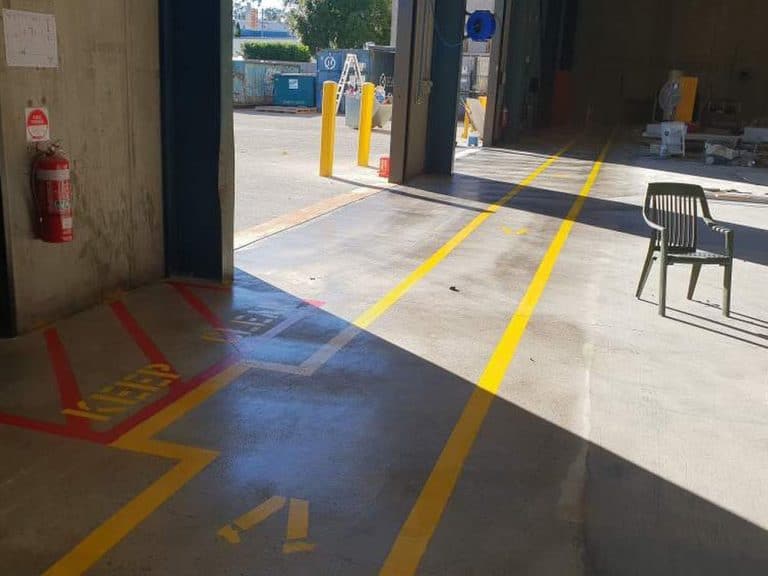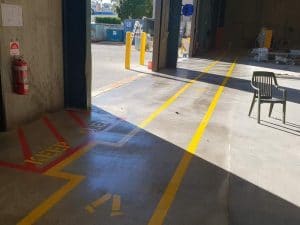 Huge Warehouse Line Marking Case Study
Even though we are a Sydney based Line Marking Company, our skills are certainly recognised interstate and it is not uncommon for our experience to be requested across our north and south borders.
This particular job in Melbourne was completed for Texco constructions as part of a new transport distribution centre for one of Australia's most recognised transport and logistics companies. Not unlike most large scale work these days, this one had a short deadline, but our dedication and experience saw this one completed in just 8 days. To give you an idea of the scale, here are some of the stats on this job:
– 17.5 Km of yellow painted lines
– Over 1400 pallet allocation numbers
– Over 150m of 300mm black and yellow hatching
– 750m2 of red hatching exclusion zones
– 133 reference points
– 9 green driver safety zones
– 23 custom designed and stenciled give way circles
– Over 600m2 of red and white non-slip pedestrian crossings
– Over 1000m2 of non-slip solid green pathways
– 96 x 4m2 solid yellow squares
– 145m of yellow truck reversing lines
– 203 truck reversing line numbers
– Assorted 500mm wording
– 3 very large arrows
Examples of Warehouse Safety Marking Services we Provide
Secure Entry & Exits
Pedestrian Walkways
Hatchings
Pedestrian Crossings
Traffic Arrows
Safe Walkway
Factory floor marking
Numbers
Numerals
Walking men
packing bays
No Parking
Company Logos
Loading bays
Custom Stencils
Bike Pathways
WHS Safety Markings
Bollards
Signage
Workshop
Storage Facilities
Machine Shops
Corner Guards
Convex Mirrors
Motorcycle Bays
Industrial Workplaces
Pallet Storage Marking
Forklift in Use
Storage warehouses
Shopping Warehouses
Sufficient Workspace
Non-Slip Floor Surfaces
Testimonials
Luke and his team at carparkking were amazing. Lots of knowledge in assisting us understand our requirements and such a high quality of workmanship. Highly recommended!!! Hannah Cullen

- Customer
Carparkking were so fast to return a quote, excellent service. They turned our old sorry carpark into a brand new facility. The employees took so much pride in their work and were an absolute pleasure to deal with. 100% satisfied with the overall experience. Will definitely use again should we need future works. Scarlett Jones

- Customer
"I would like to thank you for the great job you did in assisting Reed in opening the Chatswood Chase carpark on time. Your efforts and that of your team were a key factor in the successful hand over of the area to our client, Colonial First State. Once again, thank you." Jim Mitchell

- Reed Constructions
Get A Super Fast Quote
Thank you for visiting Carpark-King, we are happy to help with any enquiry you may have. We offer free quotes no matter how big or small the project may be. Please fill in the following form and one of our friendly team members will be in touch.